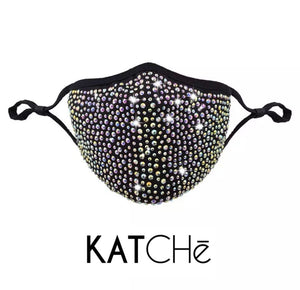 HEALTHY BREATHING: Our respirator mask is designed for comfortable protection against pollen,fumes, common airborne irritants, and other non-oil based particles. It will help you breathe in a cleaner, healthier way.

PERFECT DESIGN: Unlike previously designed dusk masks (mostly 95% masks), Our mask implements the  design preventing the pollution mask from slipping off

It can also be used as an mask to filter allergenic pollens and as a mask for flu. 

The mask shell can be washed when they get dirty and Can put filter replaceable filter .
COMFORTABLE FIT: Made of elastic nylon and spandex, lightweight material, soft texture, quick drying, breathable and comfortable to wear. General size, stretchy and adjustable strap suitable for most people, one size fits all.
Our mask separation of 98% of the chemicals, particulates, gas, pollen, smoke and fumes. For maximized performance, the mask must be sealed properly around the nose and mouth, so that all inhaled air can pass through the filter.